Prescription Culture: France vs. USA
The culture of prescription drugs in France and the United States is different - but how, and why?
Here's what we discovered.
Why do we care?

The cost of healthcare in the United States is skyrocketing. Among many other costs, the price of prescription drugs is also increasing. To make matters worse, the United States is spending much more on prescription drugs than many other developed countries. We believe that one contributing factor to our spending is that we have a drug-dependent culture.

Our inquiry has led us on an investigation in which we decided to see how our prescription culture differs from one of the best healthcare systems in the world - France. During our search, we found that there are some fundamental differences that may factor into how much each country spends on pharmaceutical drugs. This website documents our findings.


---
Prescription Culture: The Making Of

Click here to view our journey during our investigation.

Gallery

Click here to see photos depicting some of the differences in prescription culture between France and the United States

En Savoir Plus

Click here for more resources on this topic.




Powered by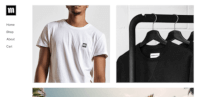 Create your own unique website with customizable templates.